Hi everyone! Today I am doing a blog swap with Kassi from Truly Lovely. She is awesome and so is her blog! When you get done reading about her fun blog stop and over and visit me at her page! Thanks for reading! :)
~Kelli~
Hello all you lovely The Inspired Collection readers!!!
My name is Kassi and I blog over at Truly Lovely!!
On my wedding day in July!
I am THRILLED to be here blog swapping with the lovely Miss Kelli!!
When you're finished here, she's over at my place being the Bloggie Bestie this week! Hope you'll pop over and say hello to her there as well!
In the meantime...
Truly Lovely is a blog about all things my sister and I consider to be well.... LOVELY.
A lot of those lovely things include crafts...
Like my Monogram Fall Rope Wreath.
Or this set of hand painted Pyrex bake ware.
Sometimes we share fun recipes like these Pumpkin Spice Cupcakes.
My mister and I were supposed to get married June 18th, but because of the Wallow Fire in Arizona we had to postpone it until July 9th.
You can read about that here, if you'd like.
Here's a Truly Lovely button in case you're looking to spice up your sidebar in the meantime... ;)

My sister Kayli shares her lovelies on the blog from time to time as well.
It's a great way to get ideas and meet new bloggie friends.
Hope you'll stop by our
Fancy This Fridays link up over
the weekend where you can showcase your projects from the week!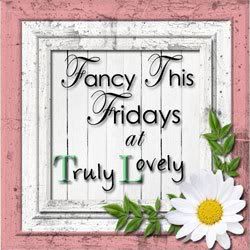 Thanks again to Kelli for having me over today!!! She's so fun, right!?!?
If you wanna learn more about being a Bloggie Bestie at Truly Lovely, just click over here.
Have a lovely day friends!!!